Balparmak
Balparmak Meadows and Plains Blossom Honey 460 g
Notice me when price drops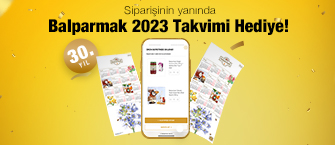 100% Secure
Payment Infrastructure

Continuous Fast Delivery
Same Day Shipping
Special Packaging with
Full Impact Protection
Free Shipping for Deliveries
Worth 350 TL and More
Flower Honey
Balparmak Meadows and Plains Blossom Honey is gathered from rich meadows and plains at elevations up to 750 meters.

All our customers have to do is make room on their dining table for a 460 g Jar of Balparmak Meadows and Plains Blossom Honey!





Baked Apples Stuffed With Cream

Ingredients

6 apples
1 cup of sugar
3-4 cups of water
Cream
Honey
Finely ground pistachios
Juice of 1 lemon

Preparation

Wash and peel the apples. Core the apples, leaving them intact with a hole in the middle. Brush lemon juice over the apples to prevent them from browning. In a wide saucepan boil water and sugar. Put the apples in the saucepan and cook untilf soft. Remove the saucepan from the stove and take the apples out using a slotted spoon. Wait fort he water to run off. After the apples are well-drained, place them on a baking tray. In an oven preheated to 200°C, bake until Brown (about 15 minutes). Take them out of the oven and transfer them to a serving dish. When cool, fill the center of the apples with cream and drizzle honey over them. You can garnish them with pistachios and serve.