Balparmak
Balparmak Pine Forest Honey 350 g
Notice me when price drops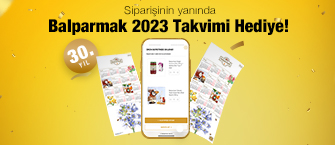 100% Secure
Payment Infrastructure

Continuous Fast Delivery
Same Day Shipping
Special Packaging with
Full Impact Protection
Free Shipping for Deliveries
Worth 350 TL and More
Pine Forest Honey
With an exquisite taste and pleasant aroma all its own, Pine Forest Honey will carry back you to the pine forests of the Aegean. Blended with great care, this honey is guaranteed by experts to be of unparalleled Balparmak quality.

The journey of Pine Forest Honey to your plate begins with the Marchelina Hellenica insect that inhabits the pine trees of the Aegean. This insect deposits a sugary liquid that it cannot digest on pine trees. Honeybees gather this up and process it with enzymes secreted from their bodies. Any connoisseur of flavor must get a taste of pine honey, 90% of which is produced in Turkey's Aegean Region. You are welcome to add this delicious 350 g Balparmak Pine Forest Honey into your life! 






Honey Ginger Lemonade

Ingredients

4 lemons

1 teaspoon of ginger powder

6 fresh mint leaves

½ cup of honey

5 cups of water

Preparation

Peel the lemon using a vegetable peeler of sharp knife, but do so without cutting into the White lemon pith. Squeeze out the lemon juice. Toss the honey, mint leaves, and lemon peel into the food processor and chop finely. Add ginger powder and the mixture from the foor processor to the lemon juice. Mix well and let it sit for fifteen minutes. Strainf the mixture, add five cups of water, and stir. After it cools in the fridge, give it another stir before serving. This concoction, which is rich in vitamin C, is great for suffering from a cold. It increases the body's resistance and helps it recover.