Balparmak
Balparmak Plateau Blossom Honey 350 g
Notice me when price drops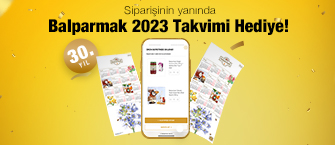 100% Secure
Payment Infrastructure

Continuous Fast Delivery
Same Day Shipping
Special Packaging with
Full Impact Protection
Free Shipping for Deliveries
Worth 350 TL and More
Flower Honey
Balparmak Plateau Blossom Honey, whose flavor you have known for years, comes from lush, pristine plateaus where wild meadow flowers bloom with tantalizing aromas.

All our customers have to do is make room on their dining table for an 350 g Click Cap of Balparmak Plateau Blossom Honey!

 






Cinnamon Honey Linden Tea

Ingredients

1 Tablespoon of cinnamon

2 teaspoon of honey

Dried linden leaves

Preparation

Steep linden leaves in a mug of hot water for five minutes. Add honey and cinnamon. The resulting tea lowers the risk of becoming ill, especially on cold winter days, thanks to the antiseptic and antimicrobial effect of cinnamon and honey. The natural flavors in cinnnamon honey linden tea also make it a perfect choice for relaxation.