Balparmak
Balparmak Plateau Blossom Honey 460 g
Notice me when price drops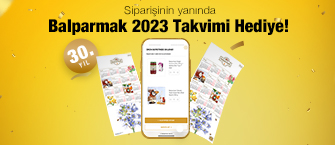 100% Secure
Payment Infrastructure

Continuous Fast Delivery
Same Day Shipping
Special Packaging with
Full Impact Protection
Free Shipping for Deliveries
Worth 350 TL and More
Flower Honey
Balparmak Plateau Blossom Honey, whose flavor you have known for years, comes from lush, pristine plateaus where wild meadow flowers bloom with tantalizing aromas.

All our customers have to do is make room on their dining table for an 460 g Jar of Balparmak Plateau Blossom Honey!

 






Honey Fruit Salad

Ingredients:

1 banana
1 teaspoon of lemon juice
Seeds of 1 pomegranate
1 bunch of grapes
4 fresh figs
1 orange

Fort he dressing

2 tablespoons of honey
1 teaspoon of cinnamon

Preparation:

Peel and slice the banana. Drizzle lemon juice over it so that it dos not Brown, and transfer it to a serving bowl. Peel the orange and cut it however you want. Then add the remainin fruit. (You can choose fruit according to the season and prepare your own special recipe.) Mix the honey and cinnamon for the dressing. Add it to the salad and serve.