Balkovan
Balparmak Balkovan Blossom Honey 460 g
Notice me when price drops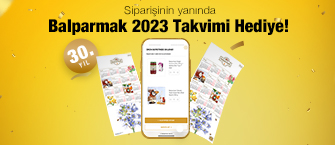 100% Secure
Payment Infrastructure

Continuous Fast Delivery
Same Day Shipping
Special Packaging with
Full Impact Protection
Free Shipping for Deliveries
Worth 350 TL and More
Flower Honey
Enjoy the hive-to-table taste of Balparmak Balkovan. Sourced from the flora-rich meadows of the Marmara, Aegean, and Mediterranean regions, Balparmak Balkovan Blossom Honey preserves the aroma and taste of hundreds of flowers. All our customers have to do is make room on their dining table for a 460 g Jar of Balparmak Balkovan Blossom Honey!





Honey Almond Rice and Steamed Sea Bass

4 person

Ingredients for Sea Bass

2 pieeces of sea bass fillet (4 halves)

Salt and black pepper

Ingredients for Rise

1 cup up 200 basmati rice

(2 tablespoons salt and 2 cups of hot water to soak the rice)

100 g peeled almonds

2 talbespoon olive oil

1 tablespoon of Balparmak Honey

For service

4 chopped chieves

4 branches of chard leaves

Preparation

First of all, you will need a steam cooker to make this dish or you can do this by placing a strainer into a pot.

Soak the rice with 4 cups of hot water and salt for about 3 hours and drain the saline at the end.
For the pre-cooking stage of rice, add 2 liters of water to a pot an boil it. Add rica and cook for 4-5 minutes. Drain the rice without losing time and shower it with plenty of water.
Place the card leaves under the steam pot you have prepared and pour a little boiled rice on it. Cover the saucepan and cook the rice in steam for 1 hour. Rice will swell up to 3 times their current amount. Open the cover and lay the fish on it. Bak efor another 15 minutes.
Fry them in butter until golden Brown. Take it off the stove by adding the honey.

Presentation or suggestion

Put the rice on chard leaves. Served with fried honey almonds and chopped chieves on top as shown in the photo if you like.