Balparmak
Balparmak Meadows and Plains Blossom Honey 225 g
Notice me when price drops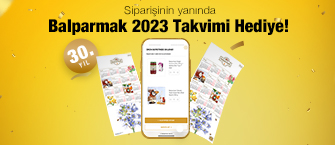 100% Secure
Payment Infrastructure

Continuous Fast Delivery
Same Day Shipping
Special Packaging with
Full Impact Protection
Free Shipping for Deliveries
Worth 350 TL and More
Flower Honey
Balparmak Meadows and Plains Blossom Honey is gathered from rich meadows and plains at elevations up to 750 meters.

All our customers have to do is make room on their dining table for a 225 g Jar of Balparmak Meadows and Plains Blossom Honey!






Honey and Fruits Güllaç

4 person

Ingredients

4 güllaç phyllos

3 tablespoons of Balparmak Honey

200 g raspberry (fresh of frozen)

3 cups of milk

1 tablespoon of rose water

For Service

40 g  of raspberry

1 tablespoon of Balparmak Honey

Preparation

Boil the milk in a pot. Add rose water and Balparmak honey. Cut the güllaç phyllos with scissors in the size of the plate where you will servet hem and cut 8 equal groups. Take 1 of the güllaç phyllos and soften it by pouring a mixture of boiled milk and honey on a tray and place it in te presentation bowl. Line up 50 g raspberry when the first group is finished, and apply the same procedures to the second phyllo and finish the first güllaç and put the remaining 3 güllaç in the fridge in the same way and rest for about 3 hours.

Presentation or suggestion

Decorate güllaç with raspberries and serve with a Balparmak Honey.