Balparmak
Balparmak Pine Forest Honey 225 g
Notice me when price drops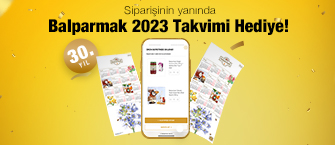 100% Secure
Payment Infrastructure

Continuous Fast Delivery
Same Day Shipping
Special Packaging with
Full Impact Protection
Free Shipping for Deliveries
Worth 350 TL and More
Pine Forest Honey
With an exquisite taste and pleasant aroma all its own, Pine Forest Honey will carry back you to the pine forests of the Aegean. Blended with great care, this honey is guaranteed by experts to be of unparalleled Balparmak quality.

The journey of Pine Forest Honey to your plate begins with the Marchelina Hellenica insect that inhabits the pine trees of the Aegean. This insect deposits a sugary liquid that it cannot digest on pine trees. Honeybees gather this up and process it with enzymes secreted from their bodies. Any connoisseur of flavor must get a taste of pine honey, 90% of which is produced in Turkey's Aegean Region. You are welcome to add this delicious 225 g Balparmak Pine Forest Honey into your life! 



Salmon Skewer Salad

4 person

Ingredients

800 g salmon fillet

To marinate

1 dessert spoon of mustard

1 tablespoon of Balparmak Honey

2 tablespoons of virgin olive oil

100 g fresh ginger (grated and squeezed)

1 tablespoon of chopped parsley

Salt and black pepper

To spit

2 limes

For Service

Green salaf blend (lettuce, cabbage lettuce, garen rocket, fresh herbs and olive oil and lemon sauce if you desire.

Preparation:

Cut the salmon into 24 equal pieces of approximately 33 g

To pepare the marinated saucei mix the ingredients in an oval bowl.
Rest your salmon cubes in this marinade souce for 4 hours.

Cut the limes into half and preare 16 equal slices of half a centimeter thick.

Spit as you see in the photo.
Cook in a non-sticky pan on a medium heat.

Presentation of suggestion

You can serve it with salad or mash if you like.